Sustainable Rubber Roofing in Portland
You've invested much into turning a house into your home. Now, protect it with one of the highest quality, sustainable roofing systems in Portland.
At Keith Green Construction, we know the importance of researching new products that are environmentally sound while protecting your home. That's why we are proud to offer our sustainable rubber roofing systems.
We continue to research new sustainable roofing products as they are developed. Many of our sustainable rubber roofing products are backed by a 50-year warranty, there's no excuse not to protect your home and the environment with a sustainable, recyclable and lasting rubber roofing system.
We are certified EuroShield installers.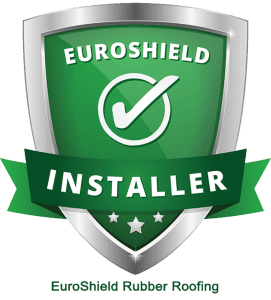 Nothing comes close to the innovation and rich elegance that a Euroshield™ rubber roof endows. When you choose a Euroshield sustainable roof for your home, you are embracing a product that will astonish you with its amazing resemblance to classic natural stone, which almost appears to have been cultivated from a quarry in Europe.
With an array of designer colors to choose from, you can harmonize the rubber roof tiles with the exterior of your home for a professional, complete, and refined look. Not only will you be inheriting the beauty of a new Euroshield rubber roof, you will also receive the extra elements of protection that the roof provides for your home. There will be no more wasted hours maintaining your roof to eradicate unsightly mold, moss, algae or insects. Euroshield tiles are so tenacious that the typical deterioration from leaves and pine needles are not even a concern. In fact, the endurance of the rubber roof is backed by a true 50-year fully transferable warranty, guaranteeing that the roof tiles will remain as beautiful and functional as the day they were laid upon your roof, and will last for years to come.
Euroshield roofing is an approved product by many homeowner's association's building specification standards.
Vista by Malarkey

Vista is an architectural shingle line fortified with sustainable NEX® polymer modified asphalt technology for enhanced granule adhesion and extreme weather protection, including Class 3 impact resistance. This product line offers optional security against algae staining.
Metal Roofing
A classic look does not have to be limited by traditional roofing materials. Keith Green Construction has beautifully designed metal roofing that resemble wood shake, tile or slate. Find out more about our metal roof repair & installation services.
Are you ready to protect your home with a quality eco-friendly roof?