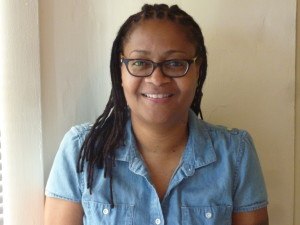 This installment of our Portland Interior Designers segment showcases the work and talents of Lenora Smith, founder of Aronel Design Studio, Inc.
Lenora is the brain behind three collections of environmentally conscious furnishing products:
the Dare to Dream collection of textured wall coverings
the Break Some Rules collection of light upholstery fabrics made of 100% recycled content
the Labor of Love collection of wall coverings printed on pre-pasted pater with a water activated adhesive
Here is what Lenora had to say in response to our questions.

What makes you different from other designers?
Although I studied interior design, I am most passionate about pattern/surface design and I have been incredibly fortunate to be able to turn that passion into three collections of sustainable interior furnishing products."

What is your idea of what a beautiful home should feel like?
I think a beautiful home should feel like wearing a well-worn glove that fits you perfectly and always feels like a warm embrace."

What is the most rewarding aspect of your work?
The instant gratification of someone falling in love with a product that was once just an idea."

What was one of your favorite projects to date, and what made it so special?
I was able to be a co-sponsor of Eco-Bungalow LA.  It was an opportunity for me to give me to a family that had lost everything in a fire.  I was able to work with the homeowner (wife/mother) directly to create a custom wallcovering and she it was particularly rewarding when she called me to say how much she loved it when it was installed."

What's your approach to interacting with clients?
Because my products are sold through design showrooms, I rarely have the opportunity to interact with the end-customer directly but, when I do, I love the process of finding out who they are and what will make them happy.  The process mostly involves  listening to their likes/dislikes and figuring out how to deliver what they want in a way that is beyond what they could have imagined."

How can a homeowner discover their signature style?
Review design magazines and visit new and different interior spaces.  Make a note of colors, textures and products that captivate you and start to develop a sense of the common thread that ties these things together."

When you are not designing, what are you doing?
I have developed a passion for cooking over the past few years so I am usually researching new foods and experimenting with new recipes."
We invite you to browse some of Lenora's work below, and to consider Keith Green Construction for your Portland roofing and construction needs.
[smartslider2 slider="5″]