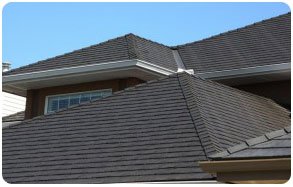 In the past, your choices were limited to low cost asphalt/fiberglass shingles or pricier premium roofing options such as slate, wood, metal or tile which could often be 3 to 5 times more expensive.
Today you have a new choice. The EUROLITE line bridges that price gap with premium quality rubber shake and slate roofing options. Higher quality plus lower price equals better value. Installation is fast and easy. Our new profiles are made with the same high quality materials and attention to detail found though out the EUROSHIELD® line. Get the most for your roofing dollar. Call us for a EUROLITE Slate™ or EUROLITE Shake™ quote today.
EUROLITE Slate™ and EUROLITE Shake™, like all other products in the EUROSHIELD® line, contain a minimum of 75% recycled content.
Warranty
EUROSHIELD® products are covered by a transferable Limited Lifetime Warranty.
Specifications:
EUROLITE Slate™
Colors Available: Grey, Black Brown
Panel Size: 40" wide x 17" high
Exposuer/Panel: 4 pc x 10" w by 7 5/8" h (2.12 sq. ft.)
Weight per square foot = 2 lbs.
16 panels/Bundle – 3 bundles = 101.76 sq. ft. to-the-weather
EUROLITE Shake™
Colors Available: Grey, Black and Brown
Panel Size: 40" wide x 17" high
Exposuer/Panel: 6 pc (varied widths) x 10" w by 7 5/8" h (2.12 sq. ft.)
Weight per square foot = 2.2 lbs.
16 panels/Bundle – 3 bundles = 101.76 sq. ft. to-the-weather
[fusion_builder_container hundred_percent="yes" overflow="visible"][fusion_builder_row][fusion_builder_column type="1_1″ background_position="left top" background_color="" border_size="" border_color="" border_style="solid" spacing="yes" background_image="" background_repeat="no-repeat" padding="" margin_top="0px" margin_bottom="0px" class="" id="" animation_type="" animation_speed="0.3″ animation_direction="left" hide_on_mobile="no" center_content="no" min_height="none"]
[/fusion_builder_column][/fusion_builder_row][/fusion_builder_container]